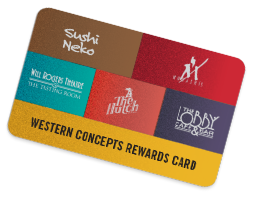 The Western Concepts Rewards Card Program (also known as the Addict Club Card) is our way of recognizing our most loyal patrons. As a Member, you'll receive gift certificates, special bonuses, and surprise gifts
Membership Details
One-time membership fee of $25.

As a member you'll receive a $20 Western Concepts gift certificate and a restaurant ball cap.

The rewards system now automatically applies points to pay your bill, after you reach a certain rewards level

No more paper coupons to track

No more 30-day expiration limit
Earning & redeeming points
Points will be awarded for dining at Sushi Neko, Musashi's, The Hutch on Avondale, The Tasting Room, Will Rogers Theatre, and The Lobby Cafe & Bar.

You'll earn 1 point for every dollar you spend on food and beverages in the restaurants, and 1 point for every $5 you spend on banquet and catering services from The Tasting Room and Will Rogers Theatre.

Points are not awarded for taxes and gratuities.

Your card must be presented at the time of point accumulation and redemption.  Points will be reset at the end of each year.
Points Structure
Bronze: 0-1249 points - $12.50 for each 250 points

Silver: 1250-2249 points - $18.75 for each 250 points

Gold: 2250-3499 points - $25 for each 250 points

Platinum: 3500 - 7499 points - $62.50 for each 500 points

Diamond: 7500 - 29,999 points - $75 for each 500 points

Ultimate: 30,000 points and up - $180 for each 1000 points
Western Concepts Restaurant Group reserves the right to alter or modify the terms and conditions of the Rewards Card Program at any time.